Chris Hemsworth is a talented actor, but this post is not about his amazing acting skills. No, this is a post dedicated to his abs, so prepare yourself!
In Hemsworth's next film, Bad Times at the El Royale he plays a charismatic cult leader. Although the character sound interesting (and a little scary), after the Australian actor posted two shirtless photos of himself from the film we can't stop thinking about him shirtless.
Sorry, but have you seen his bod? It's a work of art.  
Over the years the Avengers star has shown off his great physique on screen playing Thor, among many other handsome characters. He's also blessed us with many great shirtless beach photos and moments of him surfing. All of these great photos have shown off his killer abs and arm muscles and we're very grateful they exist.
In honor of his next shirtless (and wet…did we forget to mention he's standing in the rain?) on-screen moment we've rounded up the Aussie's best shirtless moments and scenes. Yes, it's hard work, but someone has to do it!
Enjoy all of the times that the Rush star has stripped down—or at least showed off his body—both on and off screen below. Oh, and you're welcome.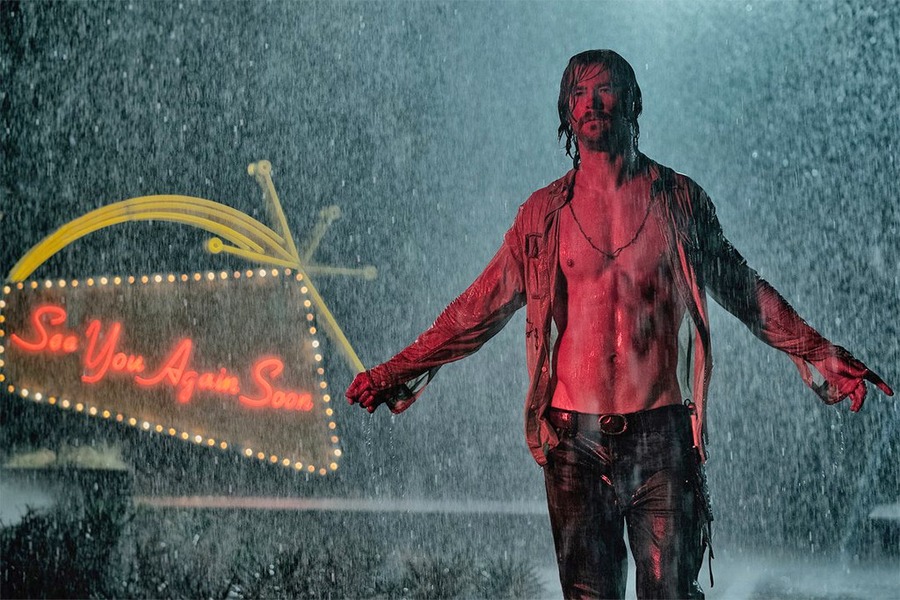 Twentieth Century Fox Film Corporation
Wet & Wild

He might be a crazy cult leader in Bad Times at the El Royale but his wet, toned physique is telling a different story. A much happier story.
Twentieth Century Fox Film Corporation
Follow the Leader

Cult leaders are bad, we know, but we'd follow this actor and his good looks anywhere.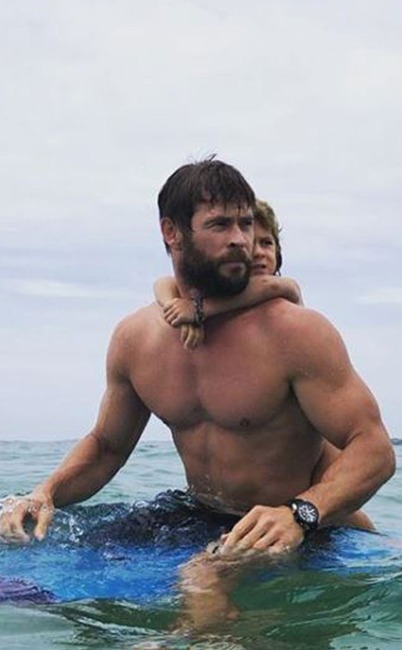 Instagram
Dad Bod

Wait, you dad doesn't balance on a surfboard while holding you on his back? Oh, we guess that's just a Hemsworth move.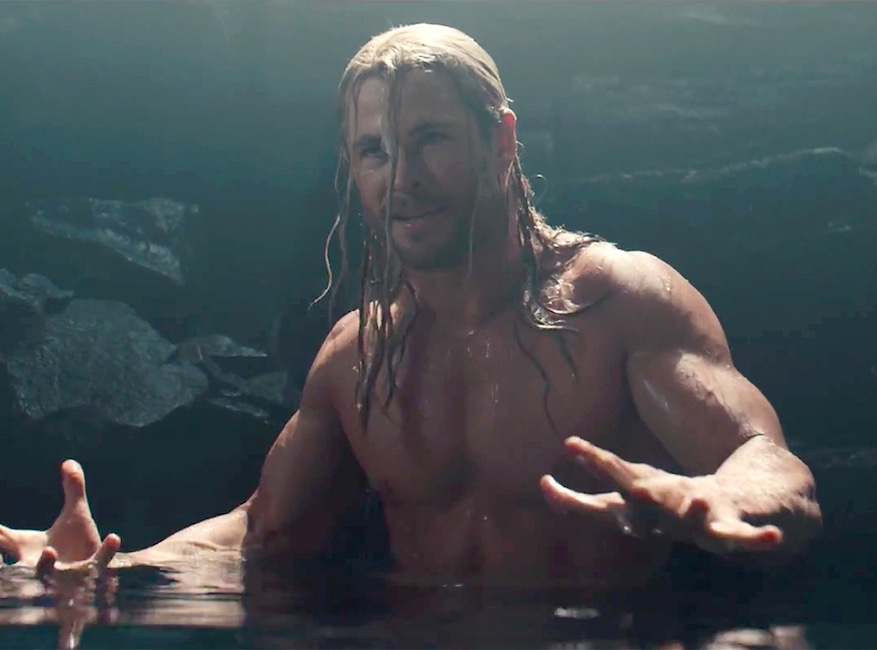 Super (hero) Sized

Thor taking a bath? Yes, please!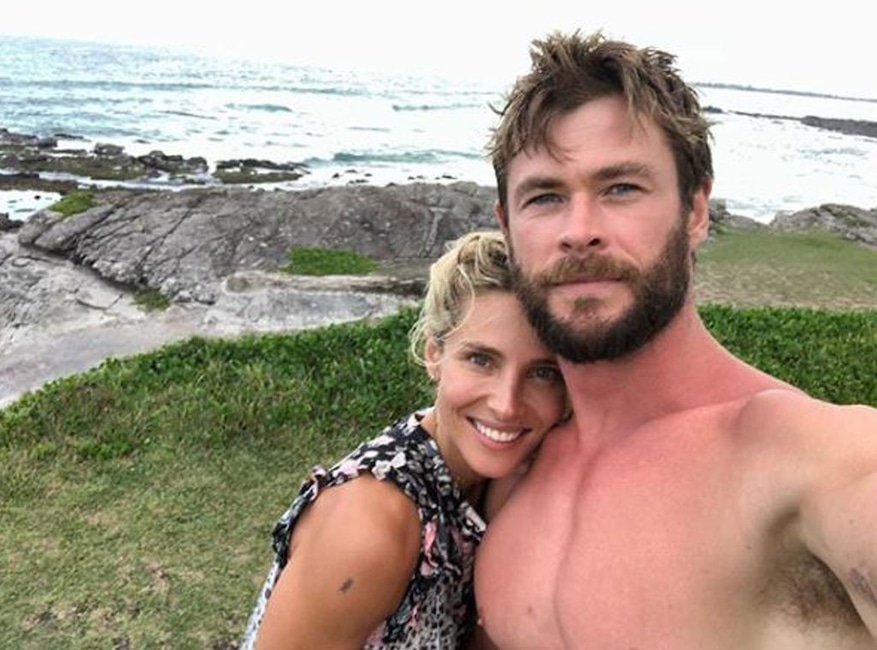 Instagram
Sunburned Kind of Love

Even being sunburned looks good on the Home and Away alum. PS: Elsa Pataky is one lucky lady to call this handsome fella her husband.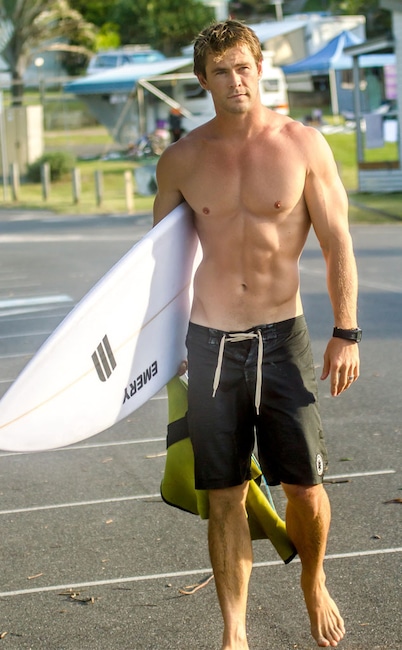 Diimex
Surf's Up!

There's one thing you can always count on when it comes to the Snow White and the Huntsman actor…he will always find time to surf (thank goodness).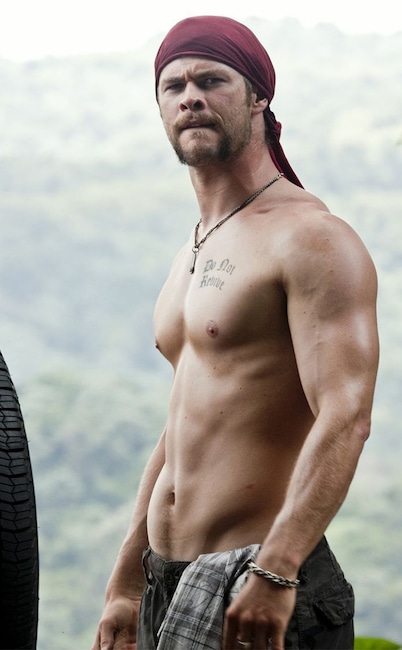 Out in the Wild

The Australian actor looks like he's in his element as he wanders a remote Hawaiian island in The Perfect Getaway. He's basically channeling his inner pirate and we're totally on board with the look.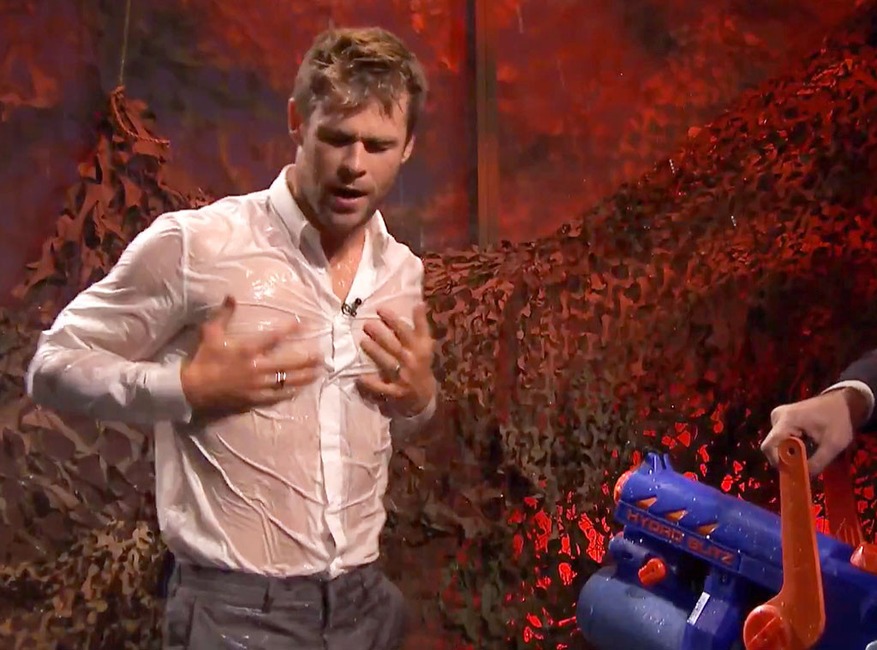 YouTube
Woo, Spring Break!

We know this isn't a shirtless photo, but Hemsworth's face while getting wet on The Tonight Show Starring Jimmy Fallon is too amazing not to show you.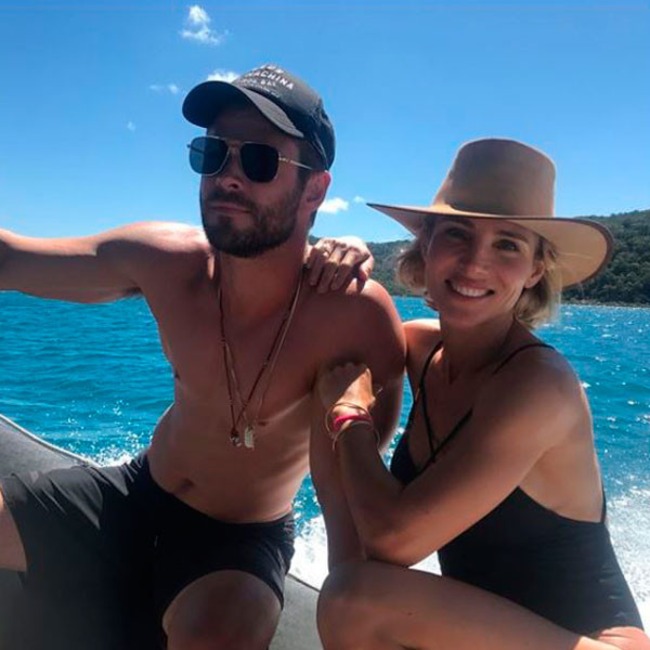 Instagram
Just Beachy

A perk of Hemsworth living in Australia? There are more opportunities to see him shirtless at the beach or just because.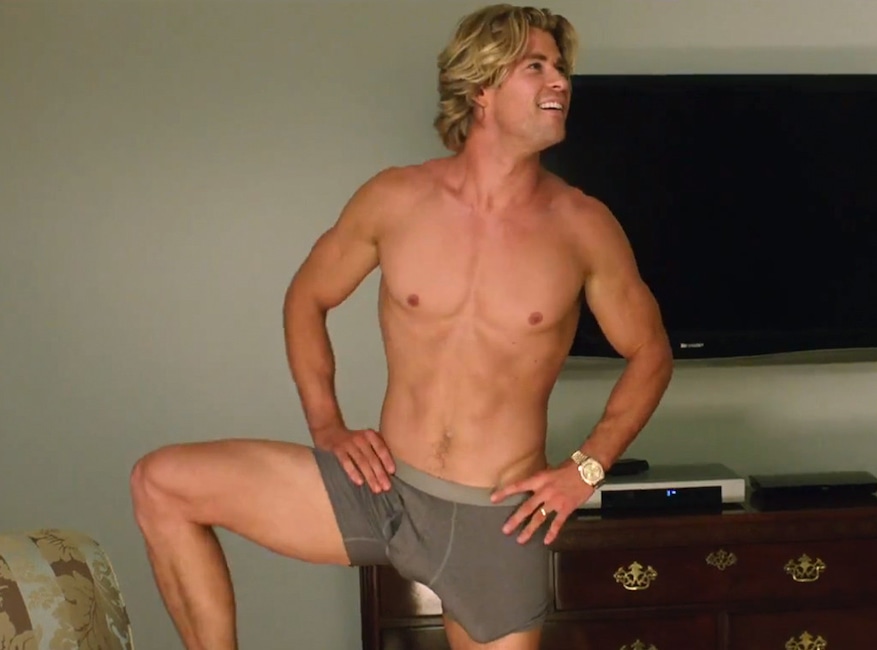 YouTube
Oh, Hello There!

The 34-year-old actor might not be the lead in Vacation, but he definitely makes himself known. A little too much if we're being honest. At least his tan torso can distract you from the rest of his…assets.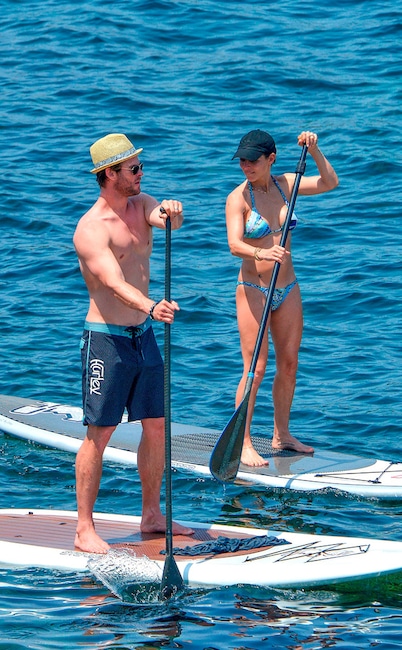 BACKGRID
Paddle Board Fun

Whether it's hanging out on the beach or paddle boarding with his wife, the Avengers star knows how to make the trunks-only wardrobe look good.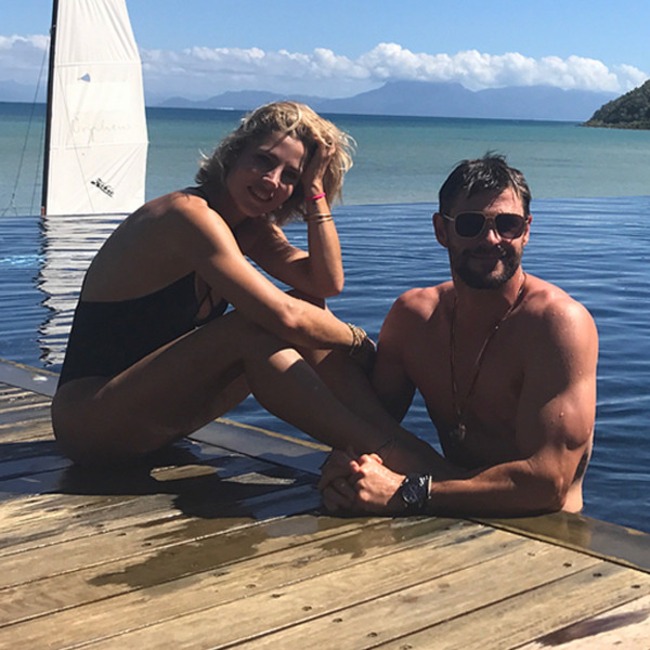 Instagram
Welcome to the Gun Show

How much does it cost to get two tickets to this gun show?!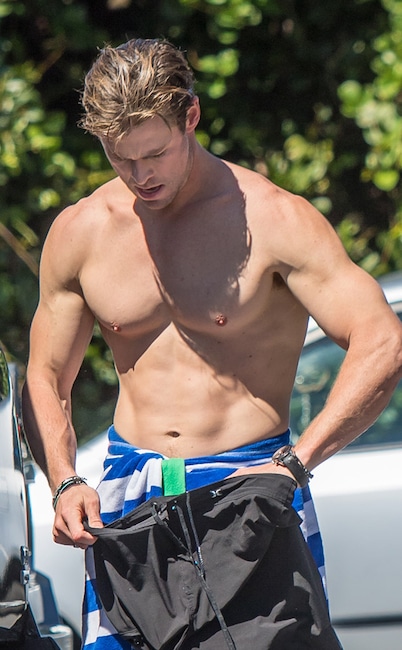 Diimex
Towel Change Champ

Leave it to Hemsworth to make a simple towel change look like a masterpiece. Sorry, is that too much? Ya, we didn't think so.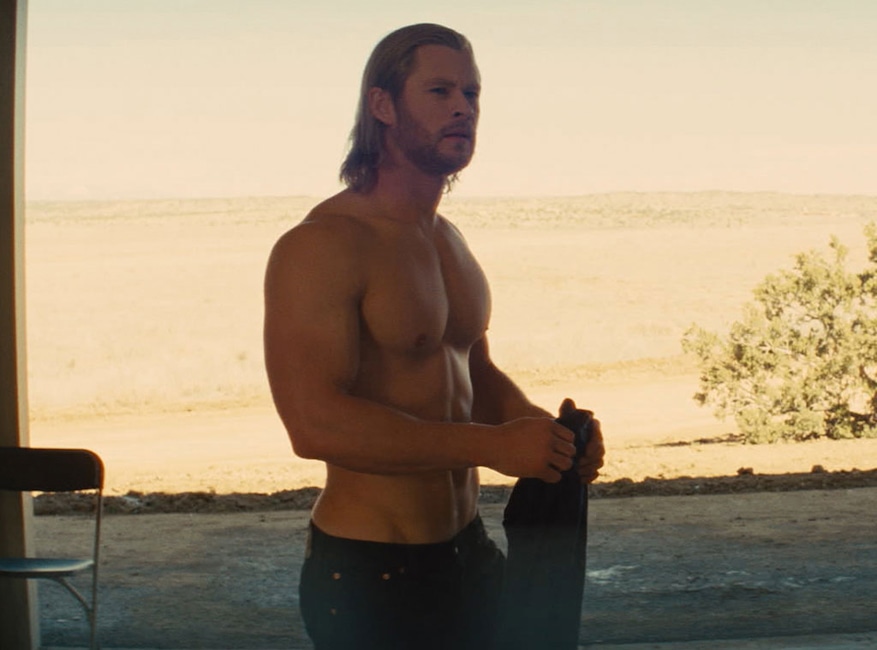 Zade Rosenthal / Marvel Studios
No Shirt? No Problem

Throughout the Thor films Hemsworth seems to live by the "shirt optional" motto and we're not complaining.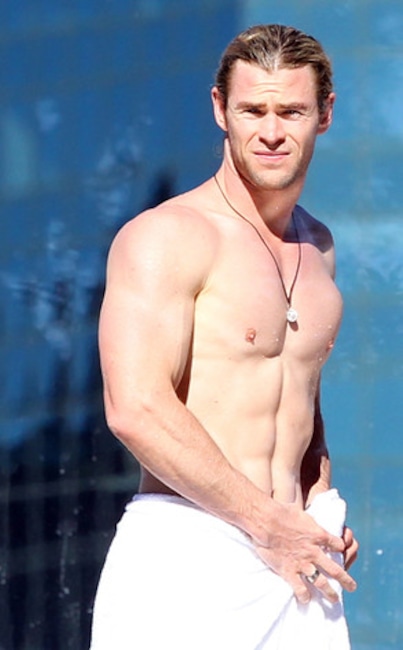 Blue Wasp/Grey Wasp/Splash News
Ab-tastic

As Hemsworth walks poolside we're instantly reminded we need to get to the gym ASAP.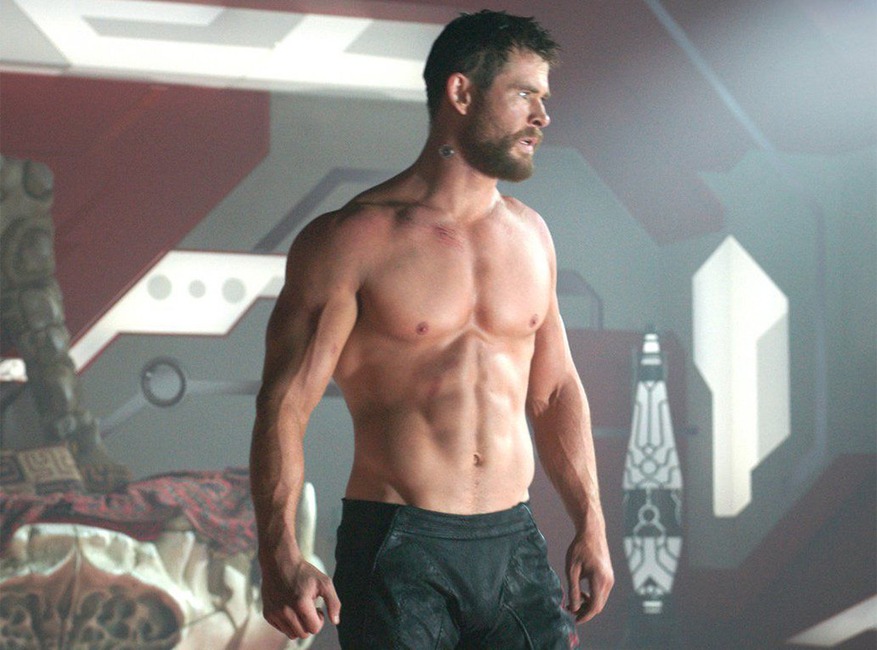 Chiseled Chris

There are a lot of movies where Hemsworth plays Thor, but our favorites are the ones where he takes off his shirt and shows his superhero bod. It's true.
Watch the 2018 People's Choice Awards Sunday, Nov. 11, only on E!