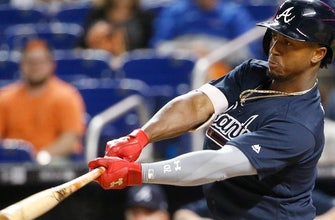 1. Pitchers are countering Ozzie Albies' aggressiveness by pitching him like another switch-hitting star
Ozzie Albies checks all the boxes on the "Future Star" survey. 
At 21 years old, the Braves' second baseman is one of the most dynamic players the game has to offer, ranking among the best and brightest in most major categories. Entering Atlanta's series finale against the Miami Marlins, Albies matched Mike Trout, Bryce Harper and Francisco Lindor in home runs, George Springer in overall offensive production and Nolan Arenado in total value.
And now, odd as it sounds given that company, it's time for adjustments.
As his genuinely surprising power surge buoys his overall offensive production, Albies' on-base percentage now sits at .306 as opponents search for ways to counteract his aggressiveness. During the season's first month — a span in which Albies challenged for the franchise's first National League Player of the Month award since Freddie Freeman's 2016 campaign — Albies swung at 260 pitches, the highest mark in baseball right ahead of J.D. Martinez and Giancarlo Stanton. Per Pitch Info, 36.6 percent of those swings were at pitches outside the zone, but Albies was still able to post a .341 OBP.
In May, Albies' swing rate is the highest in baseball among players who have seen 150 or more pitches and third-highest among players facing 100-plus pitches behind only the current champion of bad-ball hitters (Cubs star Javy Baez) and slumping Red Sox infielder Eduardo Nunez. The problem? A higher percentage of those swings have come against pitches outside the zone and his productivity has fallen as a result (stats entering Sunday's action):
March/April: .341 OBP, 36.6 percent out-of-zone swing rate
May: .245 OBP, 39.8 percent out-of-zone swing rate
Due to his top-of-the-scouting-scale bat control, Albies' aggression is to be expected and even welcomed. He hasn't posted a double-digit walk rate since rookie ball. Still, as pitchers make their adjustments he's walked just once in 58 plate appearances this month, a bottom-10 mark in baseball.
Albies' recent issues were on display during his 0-for-5 Sunday in Miami, dropping his monthly on-base percentage to .224. In his first at-bat, he worked a 3-1 count from right-hander Jose Urena before fouling off a pitch in the zone and making contact on a belt-high two-seamer well off the plate for the first out. The pitch would have been ball four. Instead, he walked back to the dugout. In his second opportunity, Albies swung at the first pitch, a borderline fastball low and away. In AB No. 3, he chased well below the zone for a weak dribbler that made it a couple feet from home plate. A lineout on a grooved pitch and a strikeout ended his day as he slammed his bat to the ground, clearly frustrated after reaching base 13 times in the past 12 games.
Pitch locations against Albies are starting to resemble those of another switch-hitting middle infielder: Cleveland shortstop Francisco Lindor.
The former eighth overall pick out of Puerto Rico debuted as a 21-year-old in 2015 as an aggressive batter who punished southpaws while still figuring out his (already impressive) left-handed swing. He arrived as a star and he's maintained his status as one of the game's preeminent position players. That's the preferred next step for Albies. And while Lindor will never be mistaken for Joey Votto as a Work The Count Club member, his walk rate has climbed from 5 percent during his 2014 stint in Triple-A to 6.2 percent as a rookie to maintaining a consistent 8.3 percent clip since 2016 — slightly behind Albies' own 57-game rookie mark. 
Right-handers and left-handers alike stay below the zone and to the outside against both infield standouts. In terms of pitch selection, Lindor is seeing a higher percentage of two-seam fastballs while Albies sees more changeups, but the "way down or way away" strategy seems to have taken hold for both players. However, despite similar pitch location profiles, Lindor is swinging at far fewer pitches and making more contact in the zone. It's also significantly better contact, likely due to the fact tthat Cleveland's shortstop is not chasing or reaching for pitches outside the zone nearly as often. Per Statcast, Albies' expected weighted on-base average — taking into account quality of contact, strikeouts and walks — is sitting nearly 100 points lower (.339) than Lindor.
This is not meant to directly compare a 21-year-old just exiting his 96th career game with an established MVP candidate in his mid-20s prime, but more as a possible development track for the former. After all, here's the initial 95-game sample size for both players:
Lindor: 421 plate app., 132 wRC+, 37 XBH, .360 OBP
Albies: 424 plate app., 123 wRC+, 46 XBP, .336 OBP
Every player needs to make adjustments as opponents mine information looking for weaknesses. It looks like Albies' turn has arrived.
Copyright The Associated Press. All rights reserved.