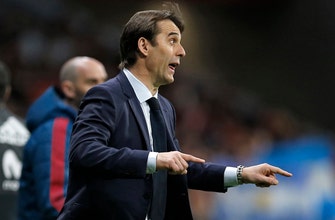 MADRID (AP) Julen Lopetegui stepped into a tricky situation when he took over as coach of the Spanish national team two years ago.
Largely untested in a major coaching role, he was handed the difficult task of replacing Vicente Del Bosque and revamping the aging squad ahead of the World Cup in Russia. It was up to him to find a way to restore the national team's confidence after demoralizing eliminations from the last World Cup and the European Championship.
Surpassing most expectations, Lopetegui got it done by successfully mixing talented youngsters and fading veterans, and by giving the team a fresh identity. The Spanish are now contenders again.
"This is the result of two years of work in which the players were the main protagonists," said the mild-mannered Lopetegui, always trying to take the spotlight away from himself. "Because of the determination, passion and conviction that they showed along the way, everyone wants to be a part of this national team again. This is the sentiment we want to ingrain and build on."
Restoring a positive mindset was Lopetegui's first step toward putting La Roja back on track after it was eliminated in the group stage of the 2014 World Cup and in the round of 16 at the 2016 European Championship.
"After we did that, we could start implementing our ideas, determining how we want to play, how we want to attack, how we want to defend, what kind of team we want to be," Lopetegui said in a meeting with international journalists at Spain's training base in Madrid. "And the players obviously have been the protagonists and have shown this conviction and determination to keep growing as a team, which is important. Because in the end we are a national team but we also want to be a team, in every aspect."
Lopetegui, a reserve goalkeeper for Spain at the 1994 World Cup, said his biggest achievement in his first two years as coach was to bring out this "commitment and passion of the players to work as a team."
"To me, without the commitment and determination of the players, it's impossible to have this desire to put aside individual quality for the good of the group and to be part of a team at all times," Lopetegui said. "That's why I said the players are the main protagonists, because they embraced this sentiment and we need to keep embracing it every time we compete with the national team's jersey."
Another Lopetegui achievement was to make Spain competitive again by striking the right balance while mixing the remaining members of its golden generation – such as Andres Iniesta, Sergio Ramos and David Silva – with up-and-coming youngsters like Francisco "Isco" Alarcon and Marco Asensio.
Spain was the team to beat in world soccer not long ago, winning Euro 2008, the 2010 World Cup and Euro 2012. It thrived under Luis Aragones and then Del Bosque, two coaching icons in Spain.
When Del Bosque announced he was retiring after Euro 2016, the Spanish federation turned to Lopetegui because of his success with the nation's youth squads. He was coming off a lackluster stint with Portuguese club Porto – his only top-level coaching job – but had led Spain's under-19 and under-21 teams to European titles in the early 2010s.
The federation took a chance on Lopetegui despite widespread doubts about his potential, but he took Spain on an 18-game unbeaten run and comfortably led it to the World Cup from a tough European qualifying group that included Italy. Among Spain's high-profile results under Lopetegui were victories against France, Italy and Argentina.
Lopetegui admits he learned a lot from Del Bosque and Aragones, coaches he calls "absolute references in the history of Spanish football."
"We can only thank Del Bosque for everything he has done for the national team, and the same with Aragones. They led Spain to the very top, to a place where it had never been before," Lopetegui said. "We are proud of what they've achieved. But I wouldn't make comparisons. Now we have a different national team and we will try to follow our own path. We have a good team, good players and a desire to keep Spain great."
—
More AP World Cup coverage: www.apnews.com/tag/WorldCup
—
Tales Azzoni on Twitter: http://twitter.com/tazzoni